Happy Memories of Science Blast 2020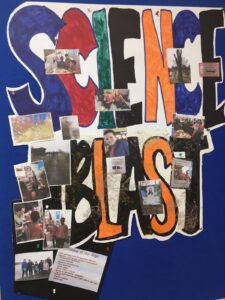 Believe it or not it has been one year exactly since the Senior Room children went off to bed early because of an early rise next morning, March 4th, 2020.  We joined with the students of three other local schools for a very exciting coach trip to Dublin.  Our destination was the R.D.S., Ballsbridge, Dublin and the reason for the trip was the E.S.B. SCIENCE BLAST.
Throughout our time there the children of Boyle Parochial shared their research and findings into 'How can we make the Bogs of Roscommon happier?'  Their wonderful display of scientific experiments and their ability to explain and discuss the value of our bogs as a vital carbon sink was highly commendable.  The judges were very impressed with the knowledge gleaned by the children in their preparation of the display and with their understanding of the importance of adopting and implementing a sustainable Climate Change Policy.  All bystanders were entertained with Ms Howard's 'Carbon Capture' song.  The lyrics capture the essence of the significance of our bogs and they help send the message to young and old alike.
Well done again to all involved.  We hope to be back on that bus in 2022.  Fingers crossed!!